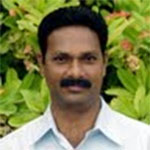 Subash Chandra Reddy is a humanitarian, nature lover and a social worker who has committed his life majorly for the cause of water resource conservation as a part of his contribution to the greater good of earth and mankind as a whole. Apart from which he is also involved in rural development works and community welfare activities in Andhra Pradesh.
Born Hyderabadi, an enthusiastic service volunteer since childhood was also an active sports person since school days, proving his mettle as college sports champion representing Nationals in Decathlon event. He also holds record of being a three time all India BSNL lawn tennis Finalist in singles and practices yoga every day. His job for sustenance since 1990 as a BSNL employee (also attained under sports quota) doesn't hinder his inner pursuit of rain water harvesting works with the vision of a fresh water resource rich globe.
SMARAN an environmental and developmental organization (registered as a NGO under societies act 606/88) working for the community welfare since 1997, is the brain child of Subash Reddy with a mission to promote natural resource base livelihoods for poor and rural communities and to protect and manage the environment and natural resources with major emphasis on water. Presently operational in the areas of Ranga Reddy, Medak, Nalgonda & Hyderabad, SMARAN till day has undertaken Micro watershed development, Nursery raising, Rain water harvesting in urban areas, Free health camps in urban slums & rural areas, Non Formal Education projects besides training the farmers in natural pest management, compost making, conducting save grain campaign etc and promoting rural women livelihood activities like tailoring and household enterprises.
He adds to his credit of being a chosen invitee as the torch bearer for the prestigious Beijing Olympic games event initiated in Delhi in 2008, he was one among the four environmental service pioneers selected and handpicked from all over the country.
He adheres to the values of Transparency, accountability, Commitment to the Ideology of sustainable development, though a moderate communicator has Networked through his SMARAN NGO with several others like AFPRO, TDC of Hyderabad, ARANYA at Zaheerabad, Nirmal etc for technical support, also with the support from Deccan Development Society & EPTRI of Hyderabad e.t.c and implemented various environment protection programmes like Rainwater harvesting, eco plantations, community nurseries, solid waste management projects e.t.c.
Subash Reddy Works with small & marginal farmers and agricultural labourers providing them alternative solutions to check their urban migration for employment due to lack of sufficient water resources for their major agricultural livelihood, Also coordinates with Self Help Groups or DWAKRA groups to manage drinking water resources and facilitates water schemes implementation. He executes projects with Communities, individuals or organizations willing to harness rain water.
Till day his rural development initiatives include Land development programmes, check dam renovations, tanks renovation and rehabilitation works in rural areas benefitting hundreds of farmers, Training on Save Grain helping farmers manage their produce, implementation of several Roof top Rain water harvesting projects in villages.
His urban RWH structure initiatives also add to the list his noteworthy local projects with organizations /entities like Delloite Hyderabad,NIFT institute,Satsang vihar at Rajendernagar,King Koti hospital, Naval office Secunderabad,Mallepally area with DDS e.t.c
A Rain water structure is not a mere structure but a child with life in it. He customizes it to each site and need specifically and the methodology of construction undertaken depicts his deeper connections to the cosmic element of the earth and his inner seeking. One has to experience this only through his work on the field and the outcome.
With the implementation of activities like improving underground water quantity & quality , sustainable underground water management works, educating and implementing economic rain water harvesting solutions, protecting and renovating potential tanks, self sustained safe community drinking water schemes he takes honest and humble steps of action to actualize his vision of a fresh water resource rich earth .
SMARAN extending Rainwater harvesting (RWH) technical support to GHMC, Hyderabad and implemented various RWH structures in St Theresa's convent, IAS officers Association Club and Nature cure Hospital in the year 2013.
Subhash Reddy, Director, Phone: 9440055253
E mail: saverainwater@gmail.com